Learn 10 items a day for 10 weeks. That's the basic principle behind our 10x10 Italian course. Watch the lessons to learn to understand the content, then store the 10 items in your memory palace. Accompanying virtual memory palaces are available to download in Munx VR, available for free on Steam. Or, if you prefer, you can build your memory palace in your imagination.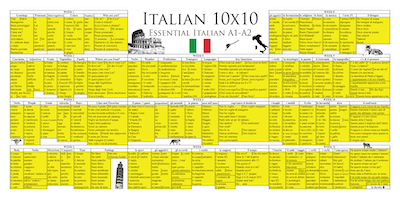 If you complete the bonus 11th week, you'll have developed an active vocabulary of 700 words, taking you from complete beginner to a lower intermediate or A2 level. Accompanying handouts, suggested mnemonics, and native speaker audio recordings accompany every lesson of the course.
Our 10x10 Italian course is designed to make learning Italian as easy as possible by providing you not only with organized and streamlined content, but also with the means to store, retain, and recall everything you learn via a memory palace. Virtual tours of the memory palaces are included in this online course, and suggested mnemonics for every word are included on the accompanying handouts, so if you're stumped thinking of your own mnemonic, there's always something to fall back on.
This course contents and Italian audio reviews have been produced with Italian linguist, Giulia Zantonello. Grazie Giulia!